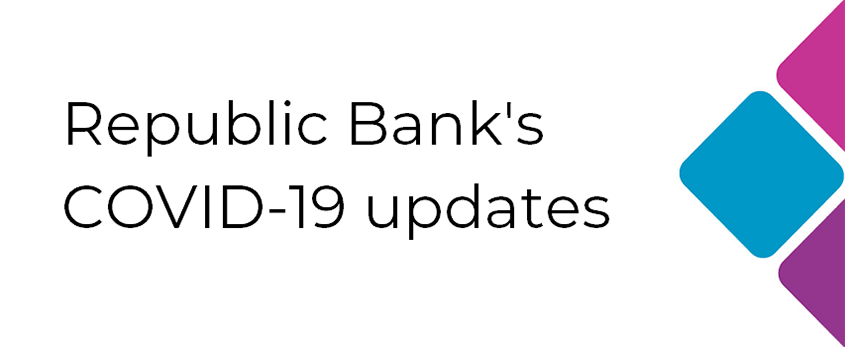 This is where we will provide regular updates on what we are doing to help support and keep you safe during this pandemic.
Dear Valued Customer,
Who would have thought that in a few months, simple gestures, such as a handshake or a tender embrace would become taboo? Instead of being close to our friends and family to show how much we love them, we must now physically distance ourselves from them to show how much we care.
Without a shadow of a doubt, COVID-19 has upended our lives in a way that no one could have imagined. Now that the virus has spread to almost every country, infecting over 2 million people, exhausting health care systems and crashing economies, some might say, and rightfully so, that it is too soon to be thinking about life after COVID-19. Sadly, there is no instruction manual or google search to tell us how to deal with our emotions or how to handle a human tragedy of this magnitude, and it is quite understandable that many of us are desperate to regain a semblance of control over our lives.
WE WILL ALWAYS BE THE ONE FOR YOU
At this time, I would like to underscore our commitment to you as we fulfill our responsibility as your financial partners. In March, we introduced several debt alleviation packages to ease your financial burden, including the 6-month moratorium on all loans, waivers of fees and penalties and the reduction of credit card interest rates. I hope that you utilise the full potential of these liquidity alleviation packages as they have been carefully curated to bring ease and assurance to you during these uncertain times. Once the cashflow demands have been ameliorated, let us begin talking about the medium to long term solutions to accommodate your future success. Please email your branch or account manager as early as practical for you.
Part of our mandate has always been to exercise our corporate social responsibility and provide aid to the communities we serve, and while we have expressed our commitment to our clients in overcoming their economic challenges, we also understand the social challenges being faced by the population and the dedicated front-line and health care workers. Recently, we announced that our parent company, Republic Financial Holdings Limited, approved a contribution, equivalent to US$2million, to be shared collectively across all the territories in which it maintains its operations.
ENSURING SERVICE CONTINUITY
While we recognise our critical role in ensuring that essential services remain unaffected, we have made the difficult decision to temporarily reduce our branch footprint and services in the best interest of our clients and staff, but assure you that we remain operational to better serve you and satisfy the exceptional customer service you've grown accustomed to. I encourage everyone to use this opportunity to join our RepublicOnline community by signing up now at republicbarbados.com. We have simplified the signup process to have the entire transaction completed without leaving the comfort of your home.
While we await guidance from the experts, we will continue to provide assistance, be it financial or otherwise to those we have been entrusted to serve. I trust that you and your family are staying at home and staying safe during these perilous times and following the guidelines set out by those who are charged with the responsibility of securing our safety. Remember, this too will pass!
On behalf of the Republic Family, our thoughts and prayers are with you all.
#StayHomeStaySafe
#WeAreTheOneForYou
#WeAreStrongerThanOurFears
#WeWillBounceBackTogether
Anthony Clerk
Managing Director & Chief Executive Officer
Posted on: April 27th, 2020
---
At Republic Bank your health and well-being and that of our staff and communities, are always our main priority. In light of the current COVID-19 pandemic, we assure you that we remain committed to providing the banking services you need in the safest environments possible.
Following the guidelines outlined by the Ministry of Health and the World Health Organization, we have ensured the appropriate sanitization of all high-traffic touch points at our branches.
As we each do our part in limiting the spread of the Covid-19 virus and in line with the urgings of the authorities around social distancing we request that customers consider minimizing their visits to the bank's branches where possible by:
Utilizing the Bank's digital and electronic channels
Using your debit and credit cards at Point-of-Sale terminals instead of cash
Avoiding banking halls if you have flu-like symptoms, contact us at 227-2700 to find out how we may facilitate your banking needs via telephone
Postponing transactions if not critical
We encourage you to continue to observe the recommended hygienic practices to help prevent the spread of the virus; and to be mindful of those who may be more vulnerable around you. By observing these practices, you can help protect yourself, your family and your community.
Thank you for your understanding.
Sincerely,
Anthony Clerk
Managing Director & CEO
Posted on: March 30th, 2020
Effective March 15th, 2021 the following branches will be open to the public:
Broad Street
Limegrove
Warrens
Six Roads
Speightstown
Wildey
Worthing
Opening Hours
Six Roads
Monday – Thursday: 9:30 a.m. to 3:30 p.m.
Friday: 9:30 a.m. to 4:00 p.m.
All other branches
Monday – Thursday: 8:00 a.m. to 2:00 p.m.
Friday: 8:00 a.m. to 4:00 p.m.
We encourage you to continue practicing the assigned health and safety protocols to stem the spread of COVID-19.
We also remind you that our RepublicOnline and Blue Machine ATM services are quick and convenient ways to complete your financial transactions.
Republic Bank COVID-19 Customer Support
Republic Bank is committed to the safety, security and overall health of our staff, customers and communities. During these challenging times, we also recognize that access to financial services and financial well-being may be negatively impacted.
In light of the above, we have embarked upon a strategic plan that is aimed to bring relief to our valued customers. The Covid-19 virus will see a number of initiatives being activated that will seek to assist with bringing immediate financial assistance to customers. The Bank recognizes the role we need to play in assisting during this pandemic and is committed to ensuring that we do all we can.
The Bank has introduced the following measures which will help to alleviate the financial hardship of customers.
Personal customers
Moratorium on all loans, including mortgages for up to 6 months, will be automatically made available upon request.
Debt restructuring will be considers on a case-by-case basis
Temporary increase of overdraft and credit card limits
Automatic waivers for the next 6 months on:

Credit card- late fees and over-limit fess, effective March 23, 2020
Overdrawn account fees
Late fees on loan repayments
No penalties for early withdrawal of Certificate of Deposit accounts
Corporate and Commercial customers
Moratorium on all loans for up to 6 months, will be automatically made available upon request.
Debt restructuring will be considered on a case-by-case basis
Temporary increase of overdraft and credit card limits
Reduction in Merchant Commission fee by up to 0.5%
Automatic waivers:

Credit card- late fees and over-limit fees, effective March 23, 2020
Overdrawn account fees
Late fees on loan repayments
No Penalties for early withdrawal of Certificate of Deposit accounts
To be eligible for the Moratorium and Automatic Waivers, customers must be in good standing with the Bank.
Interest rate adjustment
Credit card interest rates to be reduced by 0.5% per month, effective March 23rd, 2020
All of the above concessions are available until June 30th, 2020 subject to extension by the bank.
As we all work together to overcome these challenging times, Republic Bank continues to advise its customers to limit the number in-branch visits and utilize its digital and electronic banking channels. Customers are also encouraged to contact the Corporate and Commercial Credit Department or their Home Branch regarding any queries or challenges that may be faces. Additionally, customers may email any queries to info@republicbarbados.com.
We have implemented several changes to our branch operations to safeguard the well-being of its clients and staff amid ongoing Covid-19 concerns. These changes are as follows:
Social Distancing
To ensure all clients are afforded a safe environment in which to conduct their banking services, the following measures will be implemented:
The number of clients allowed inside the branch at any one time will be restricted based on the size of the banking hall
All non-cash services (including requests for moratoriums and debt restructuring) can now be initiated via email at info@republicbarbados.com. Clients should include their home branch in the Subject of the email. This process applies to clients of branches open and closed to the public. Please note that Republic will NOT send clients any email requiring them to respond sharing any confidential banking details.
To make it easier to access our online services, clients are asked to follow the NEW Contactless registration process https://www.republicbarbados.com/ibsignup
Clients who require access to safety deposit lockers at closed branches will be required to email the above address or contact the nearest open branch to make arrangements.
Adjustment to services offered
Clients are invited to check with their branch before visiting but preferably to make use of our electronic channels for all non-cash transactions.
All Branch and off-site Blue-Machines will continue to be available
Night Safe Services at all locations
Enhanced sanitization efforts
To ensure a safe environment for clients and staff we continue with our program of daily deep cleaning and sanitization of all locations.
Temperature checks, face masks mandatory
Please be advised that temperature scanning is now mandatory at all branches, along with the wearing of masks and sanitizing.
During this simple and short process, clients will have their temperatures checked by a staff member upon entry. If that check indicates a temperature above 37.5 degrees Celsius, clients will be asked to step aside and wait 10-15 minutes before a second temperature check is administered.
Once this second test proves to be under 37.5 degrees Celsius, the client will be allowed to proceed into the branch and conduct transactions accordingly.
Branch services available at the Broad Street, LImegrove , Warrens, Six Roads, Speightstown, Wildey, and Worthing locations.
Please note that sign-ups for RepublicOnline will be facilitated online at https://www.republicbarbados.com.
Customers are urged to send all enquiries to info@republicbarbados.com.
We thank you for your understanding and cooperation as we continue to bolster existing in-branch safety protocols and stem the spread of COVID-19.